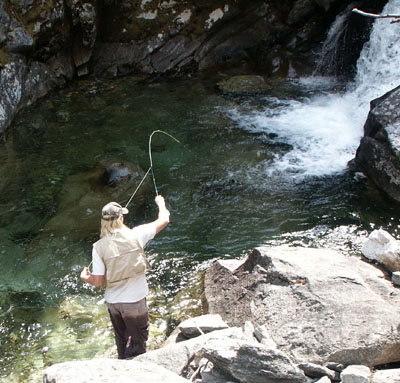 In all my years of guiding in Montana, I rarely was able to talk a beginning fly fisher to forego floating a famous Montana river and head for the canyon creeks. It's a pity because one day of instruction on a creek is equal to three or four days on a river. "Mend your line," shouts the guide. "You missed the target. You have to be within six inches of the shoreline, says the guide enthusiatically. "You're casting at the wrong angle. Stay in front of the boat," responds the guide. "Your fly has sunk, and you have line drag," mutters the guide. None of this will happen when you fish a creek.
Instead your guide will be laughing with delight when you miss or land a 7 to 9-inch cutthroat next to every rock and in every pocket. After all, there is basically only three guiding principals to remember.
1. Keep your rod tip high with little or no line on the water.
2. Allow the fly to float with the natural speed of the current. Better yet, let the fly stall.
3. Anticipate the strike and set the hook.
Click on this Montana fly fishing link for a great creek fishing article with lots of photographs. The young model is my son Brandon Archer who returned with me to one of our favorite Bitterroot Creeks.