What's wrong in these photographs?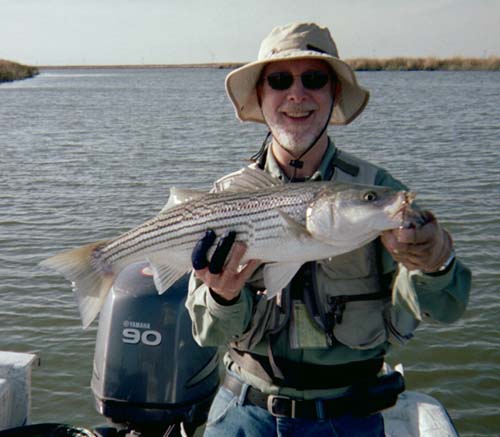 The answer, of course, is that I am the angler holding up the small largemouth caught on a plastic worm. My old friend, Bill DeWalt, proudly displays a hefty striper caught on a fly rod using a Clouser Minnow pattern that he had tied. While I doggedly preserved with my conventional gear hoping to catch a nice largemouth, Bill stayed the course with his fly rod. He caught a couple of small stripers and encouraged me to switch to fly fishing. I grumbled that I have fly fished my entire life, and I now wanted to fish with conventional gear. Besides, the fishing was slow, and I thought I had a better chance with my bait casting rig and a jig. Although I wished I was holding that big fish, I was thrilled that it was landed in my boat. I am now convinced that fly fishing for bass on the delta is a viable alternative to slinging hardware. I am also intrigued with the notion that largemouth bass rarely see a presented fly, unlike the constant barrage of spinnerbaits, crankbaits and plastic that drop in on them everyday of the season.
I traveled to the Sacramento-Delta this spring only to find myself in the middle of a cold-front. It occurred to me that fly fishing anglers from Montana undoubtedly would enjoy a fly fishing trip to the Sacramento delta. It is a wonderland of waterways. Built over 100 years ago to control the Sierra snow melt from the Sacramento River, the Mokolumne River and the San Joaquin River, the system claims almost a thousand miles of river, tidal lakes, sloughs and cuts. The delta has attracted the attention of tournament bass fishers for decades, and some experts predict that a world record largemouth bass could very well be lurking there now, especially with the introduction of a Florida strain of LMB. Striped Bass can be found in the delta year-around, but the migratory Striped Bass coming into the delta from the ocean and San Francisco Bay attract anglers from all around the region. The bass arrive in the spring for their spawning. By mid-June these migratory bass return to the San Francisco Bay and the ocean, but they return again in the fall. With so much water available, and so many fish, where would a new visitor launch for the first time?
The first step is to buy a map of the delta from one of the following sources:
Department of Fish and Game, Central Valley-Bay Delta Branch, 4001 Wilson Way, Stockton, CA 95205. (209) 948-7800. Go on line to view maps from the Department of Fish and game: http://www.delta.dfg.ca.gov/stripedbass/
www.frankomaps.com
www.fishnmap.com
I believe that the best chance for success, good camping, and the least chance of getting lost is to target one of the tracts, which were once farming tracts. Through the years flooding conditions caused major breaks in the levies flooding farmland and creating large lakes. One area that I especially like to launch from is B&W Resort, just across the Sacramento River from Rio Vista on High 12. For reservations call 916.777.6161 or email them at info@bandwresort.com. B&W does not have camping, but they let me stay in my camper in a parking area. I like this resort because it is close to Frank's Tract, the Sacramento River and the San Joaquin River. Continuing on Highway 12 east towards Lodi, Tower Marina has a KOA next door, and it offers good fishing for stripers and largemouth in the Beaver Slough, Hog Slough and Sycamore Slough area. http://www.towerparkresort.com/
It too is within reasonable distance to Frank's Tract. Another great destination is Mildred Island, which offers good fishing on the lake and all around the track.
Here are some links for further information
http://www.californiadelta.org/
http://www.fishsniffer.com/
http://www.deltastripers.com/